Graduate Internship (all gender) for 6 months, Pricing Tool Development, full time
Specialty Lines CH & International
Innovative, highly trained and always on the lookout for creative solutions. That is what working at Helvetia is all about. A steady stream of new challenges awaits those who are technically gifted and like taking on responsibility in a team setting. We look forward to receiving your application – &Go.
Your responsibility
In this position you will have the chance to work on a project called "Specialty Lines Pricing Cloud"
One of the goals of the project is to develop innovation pricing tools and thereby move from developing tools in Excel to developing them as web apps
Your mission will be to prepare a code library to facilitate and simplify the development of the frontend solutions and to write a manual explaining how to use them. The documentation will be in English.
The library is thought to be a good starting point for us to develop internally user interfaces
The position can be based in Basel or Zurich Stettbach with flex-office option
Start date: to be discussed, asap
Your qualification
You are a recent graduate (BSc/MSc) with a degree in computer sciences with emphasis on Mathematics
You have an efficient working style and hands-on "start-up" mentality and excellent knowledge of MS Office tools (Word, Excel, Outlook, ...), interest in developing a web application and ideally experience in REACT
You are looking forward to working in a modern, inclusive, pleasant working environment in a fast-growing, dynamic organization
You are fluent in English and have strong written and verbal skills; additional languages are an added benefit
You are keen on bringing your expertise in a small team of multinational, multidisciplinary, highly motivated colleagues and learn new skills
Contact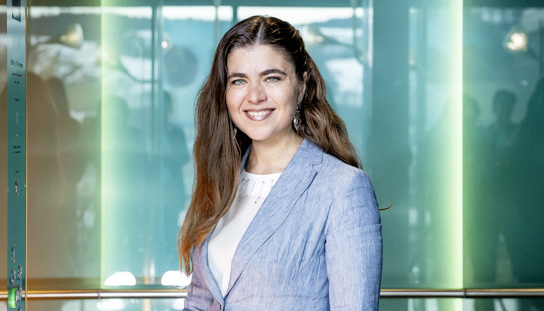 Alice-Alexandra Kall
Recruiting Partner

Take the first step now by applying online. We only consider direct applications and kindly ask recruiting agencies not to send us candidates.
For this position we cannot consider applications through recruitment agencies.
Do you already know your future boss?
Fabrice Vouillamoz
Head of Pricing Specialty Lines CH & International
Working at Helvetia
At Helvetia we look for people with distinctive strengths and weaknesses – genuine personalities with a bold, wholehearted approach who will not be deterred by the odd headwind. After all, it's only by trying out new ideas and learning from them that we can move forward both as individuals and as a company. We place this confidence in all our employees and this is precisely what makes working for Helvetia so special. Our take on this: &Go.
Find out more
Working for Helvetia means: &Go.
What distinguishes us
Friendly Workplace
Helvetia's occupational health management fit@helvetia is committed to the health and satisfaction of its employees. Helvetia was awarded the "Friendly Work Space" label for this commitment in December 2016.
kununu award
What employees and applicants say about us
Top-100 Employer 2018
Helvetia remains one of the top 100 employers in Switzerland. Universum surveyed 11,000 students from the 70 leading universities.
«We pay fair»-award
Helvetia's wages as at 31 December 2017 appear to comply with the principle of "equal pay for work of equal value" enshrined in the Federal Constitution.
Top Employer 2021
We are certified as a Top Employer company that offers outstanding employee conditions. We face the demanding audit of the Top Employer Institute every year.
Best Recruiters 2020
We aim to provide a consistently positive recruiting process. In 2020, we were once again awarded first place in the Best Recruiter Awards for our recruiting experience.