Head Investment Controlling & Reporting
Was in vielen anderen Unternehmen nur leere Versprechen sind, ist bei uns oberste Regel: &Los. Es steht für das Vertrauen, das wir in unsere Mitarbeitenden und deren Fähigkeiten setzen. Denn wir sind überzeugt, dass ein gemeinsamer Erfolg nur möglich ist, wenn jeder den nötigen Freiraum bekommt, Talente bestmöglich einzusetzen. Das bringt nicht nur Dich persönlich weiter, sondern das gesamte Unternehmen. Wir freuen uns auf Deine Bewerbung!
As a direct report to the Head Business Transformation/ COO, you will be responsible for investment controlling, monitoring and reporting for the Asset Management division. Together with your team, you play a crucial role in strengthening our asset management business with a focus on financial controlling, performance management and collaborating with internal and external business partners. You will define, manage and steer the various investment controlling and reporting activities of the Asset Management division including generating results, findings and recommendations built into reports that form an integral part in steering the investment activities and improving the investment process.
Deine Verantwortung


Lead and continuously evolve the Investment Controlling and Reporting function (and team) according to industry leading standards
Design, prepare and present comprehensive investment controlling, performance and benchmark analyses and advise on opportunities to improve investment decisions and process
Design, prepare and review standardized and specific analysis, recommendations and reporting for the various client groups and management bodies
Responsible for monitoring, optimization and continuous development of a modular controlling and reporting framework including associated tools, dashboards and scorecards/ KPIs etc.
Responsible for the monitoring and frequent analysis of investment-related activities, their target achievement and development of specific analysis in the area of asset management
Management, optimization and further development of cost controlling and attribution for the Asset Management area including development of recommendations for the optimization of cost structure and services
Actively coordinate with internal and external partners along the investment process including Investment Solutions, Risk Management, Portfolio Management & Manager Selection, Investment Management Platform, Finance, Asset Servicing, Custody etc.
Management of various projects and initiatives and active participation in the implementation of various projects within and outside the Asset Management division
Deine Qualifikation


University degree in Business Administration, Finance, Controlling or related fields on a Master/ Bachelor level from a university or university of applied sciences
Several years of professional experience (> 10 years) in relevant areas in the finance, asset management or fund environment
Strive for excellence in your own area of responsibility and strong willingness to continuously enhance the investment controlling & reporting function
Several years of leadership experience at team or department head level with excellent communication skills
Strong IT affinity and experience with outsourcing partners an advantage
Analytical thinking and dedication to achieve high-quality insights, contributions and reports
Self-starter mentality and strong team player with a high level of social competence and initiative
Strong communication skills and fluent in German and English (verbal and written)
Kontakt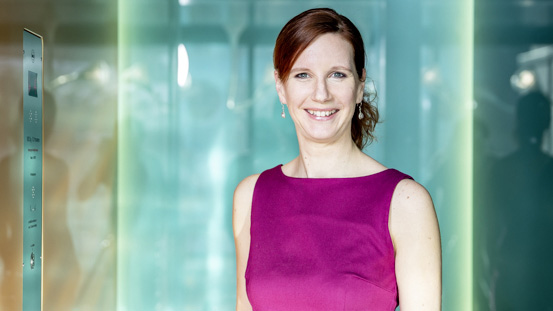 Liza Follert
Recruiting Partner

Mache den ersten Schritt und bewerbe dich ausschliesslich online. Wir berücksichtigen nur Direktbewerbungen.
Für diese Stelle können wir keine Bewerbungen über Personalvermittlungen berücksichtigen.
Arbeiten bei Helvetia
Wir bei Helvetia suchen Menschen mit Ecken und Kanten. Echte Persönlichkeiten, die mit Herz bei der Sache sind, mutig vorangehen und nicht davor zurückschrecken mal auf Gegenwind zu stoßen. Denn nur wer Neues ausprobiert und daraus lernt, bringt sich selbst und das gesamte Unternehmen weiter. Dieses Vertrauen schenken wir all unseren Mitarbeitenden und genau das macht Arbeiten bei Helvetia auch so besonders. Wir sagen dazu: &Los.
Mehr erfahren
Arbeiten bei Helvetia bedeutet: &Los.
Was uns auszeichnet
Friendly Workplace
Helvetia setzt sich mit dem Betrieblichen Gesundheits- management fit@helvetia für die Gesundheit und Zufriedenheit ihrer Mitarbeitenden ein. Für dieses Engagement wurde Helvetia im Dezember 2016 von der mit dem Label «Friendly Work Space» ausgezeichnet.
kununu Auszeichnung
Was Mitarbeitende und Bewerbende über uns sagen
Top-100 Arbeitgeber 2018
Helvetia gehört weiterhin zu den Top-100-Arbeitgebern in der Schweiz. Universum befragte 11'000 Studenten der 70 führenden Hochschulen.
«We pay fair»-Auszeichnung
Die Löhne von Helvetia per 31. Dezember 2017 scheinen dem in der Bundesverfassung verankerten Grundsatz «gleicher Lohn für gleichwertige Arbeit» zu entsprechen.
Top Employer 2021
Wir sind zertifiziert als ein Top Employer Unternehmen, das herausragende Mitarbeiterbedingungen bietet. Wir stellen uns jährlich dem anspruchsvollen Audit des Top Employer Instituts.
Best Recruiters 2020
Wir wollen einen durchgängig positiven Rekrutierungsprozess bieten. Im Jahr 2020 wurden wir hierfür wiederholt mit dem ersten Platz im Rahmen der Best Recruiter Awards ausgezeichnet.