Senior Risk Engineer (all gender) International Utility and Energy, full-time or part-time
Speciality Lines CH & International
For other companies, it's merely lip service. For us, it is a guiding principle: &Go. It stands for the trust we place in our employees and their abilities. Because we believe that shared success is only possible when everyone is given the scope they need to let their talents unfold in the best possible way. The best way not only for your personal development, but for the development of the company as a whole. We look forward to receiving your application.
Your responsibility
Risk assessment (remote and physically on site) of industrial risks globally, with a focus on Europe and North America
Consistent and structured risk evaluation according to Helvetia standards and procedures
Work closely with the underwriter to shape insurance coverage to the technical quality of the risk
Servicing the Underwriting community with solid technical risk analysis, assisting to make sound, risk adequate underwriting decision
You will contribute to the enhancement and expansion of existing risk assessment tools
You will need to keep abreast of industry developments and act as a center of knowledge in your field of expertise
You will collect and disperse knowledge in your field of expertise, become the "go-to" point for technical questions
Collect and structure risk information to make them readily available for the assessment of risks of similar nature
Your qualification
Engineering degree in Mechanical, Electrical, Chemical / Process engineering or similar
Proven track record of relevant industry experience in an international environment
Ideally, you have additional risk engineering experience in the international insurance industry and/or in a larger corporation
Insurance experience as an underwriter of international industrial risks is considered a plus
Proficiency in English and at least one other language, such as French, Spanish, Portuguese, German, Russian, Arabic, Mandarin or Hindi is required
You are able to build and foster working relationships on all working levels with internal and external stakeholders
You come with a strong work ethics, are self-driven and curious and still have an eagerness to learn and share your knowledge
Proven team player, service oriented, positive can-do attitude
Contact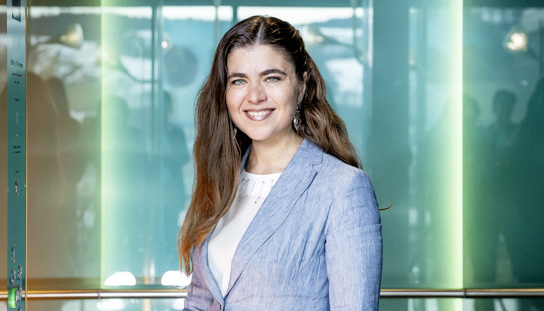 Alice-Alexandra Kall
Recruiting Partner

Take the first step now by applying online. We only consider direct applications and kindly ask recruiting agencies not to send us candidates.
For this position we cannot consider applications through recruitment agencies.
Do you already know your future boss?
Raik Wittowski
Head Risk Engineering Services
Working at Helvetia
At Helvetia we look for people with distinctive strengths and weaknesses – genuine personalities with a bold, wholehearted approach who will not be deterred by the odd headwind. After all, it's only by trying out new ideas and learning from them that we can move forward both as individuals and as a company. We place this confidence in all our employees and this is precisely what makes working for Helvetia so special. Our take on this: &Go.
Find out more
Working for Helvetia means: &Go.
What distinguishes us
Friendly Workplace
Helvetia's occupational health management fit@helvetia is committed to the health and satisfaction of its employees. Helvetia was awarded the "Friendly Work Space" label for this commitment in December 2016.
kununu award
What employees and applicants say about us
Top-100 Employer 2018
Helvetia remains one of the top 100 employers in Switzerland. Universum surveyed 11,000 students from the 70 leading universities.
«We pay fair»-award
Helvetia's wages as at 31 December 2017 appear to comply with the principle of "equal pay for work of equal value" enshrined in the Federal Constitution.
Top Employer 2021
We are certified as a Top Employer company that offers outstanding employee conditions. We face the demanding audit of the Top Employer Institute every year.
Best Recruiters 2020
We aim to provide a consistently positive recruiting process. In 2020, we were once again awarded first place in the Best Recruiter Awards for our recruiting experience.