Underwriting Assistant (fulltime/partime)
Life Reinsurance
For other companies, it's merely lip service. For us, it is a guiding principle: &Go. It stands for the trust we place in our employees and their abilities. Because we believe that shared success is only possible when everyone is given the scope they need to let their talents unfold in the best possible way. The best way not only for your personal development, but for the development of the company as a whole.
Do you enjoy the challenges and excitement of a growing business? Join our Life Reinsurance Underwriting team, one of the newest specialty areas within our successful Active Reinsurance Department, and make your contribution to building a solid, efficient and successful new venture within Helvetia. We look forward to receiving your application.
Your responsibility


You are part of the Life Underwriting Team in the Active Reinsurance Department
You are responsible for the Underwriting Back-office and support the Senior Underwriters and Underwriters who serve clients in a specific region of the world 
The role requires interaction with clients and brokers and you play an important part in providing these parties with a level of service that builds a positive image of the Helvetia brand
You develop best practice with fellow Underwriting Assistants and share knowledge across the teams
You enter and maintain underwriting information for the assigned business in the reinsurance system and associated systems
Employment percentage: 80 - 100
 
Your qualification


Completed Bachelor's degree in business administration or equivalent education
A strong understanding of insurance numbers and statistics is required
Clear understanding of reinsurance products and strong administration skills: planning, organisation, time management, computer skills and strong attention to detail
Ideally 5 years of experience within the reinsurance or insurance industry
Independent, precise, process-oriented working method
Initative team player with very good analytical and interpretation skills and strong mathematical aptitude
Fluent in English, additional languages such as French, Spanish or German would be a plus
Experienced with SAP is advantageous
Contact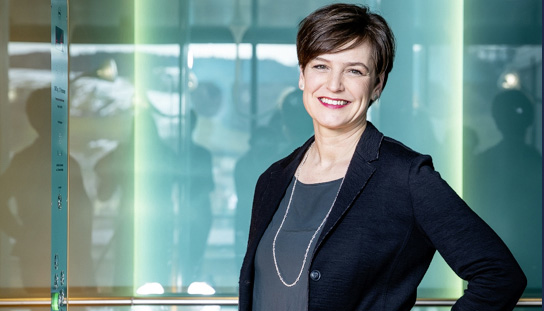 Simone Schlegel Moser
Recruiting Partner

Take the first step now by applying online. We only consider direct applications and kindly ask recruiting agencies not to send us candidates.
For this position we cannot consider applications through recruitment agencies.
Do you already know your future boss?
Dean Graham
Head Life Reinsurance
Working at Helvetia
At Helvetia we look for people with distinctive strengths and weaknesses – genuine personalities with a bold, wholehearted approach who will not be deterred by the odd headwind. After all, it's only by trying out new ideas and learning from them that we can move forward both as individuals and as a company. We place this confidence in all our employees and this is precisely what makes working for Helvetia so special. Our take on this: &Go.
Find out more
Working for Helvetia means: &Go.
What distinguishes us
Friendly Workplace
Helvetia's occupational health management fit@helvetia is committed to the health and satisfaction of its employees. Helvetia was awarded the "Friendly Work Space" label for this commitment in December 2016.
kununu award
What employees and applicants say about us
Top-100 Employer 2018
Helvetia remains one of the top 100 employers in Switzerland. Universum surveyed 11,000 students from the 70 leading universities.
«We pay fair»-award
Helvetia's wages as at 31 December 2017 appear to comply with the principle of "equal pay for work of equal value" enshrined in the Federal Constitution.